Q & A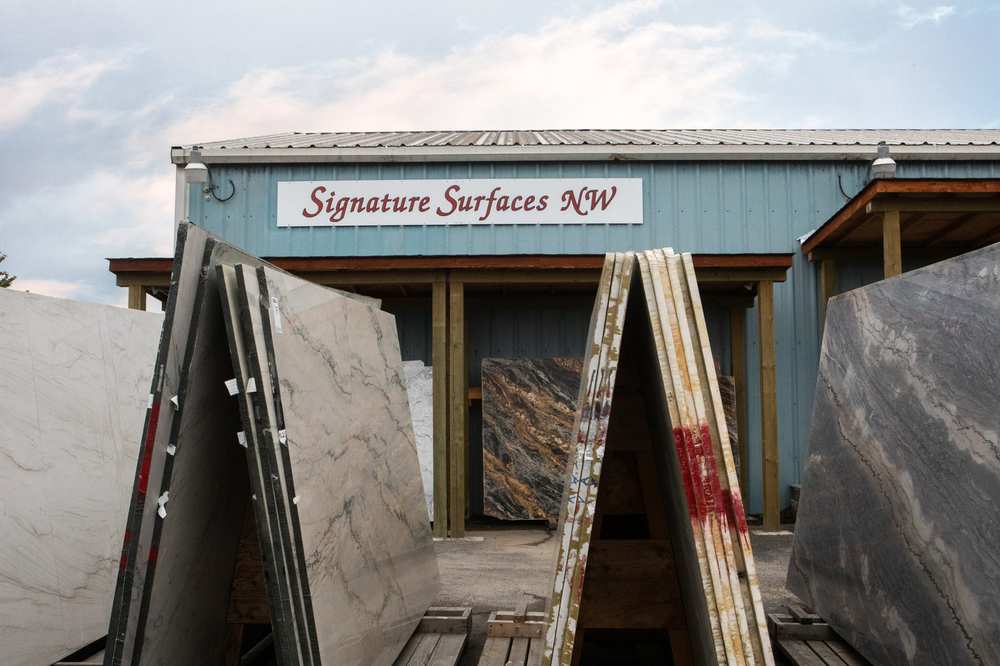 The vast majority of our stone comes from Brazil. We import it directly from the quarries so we can offer you a unique selection at great prices.

Yes. If you do not fall in love with something that we have on site, you are welcome to shop all the suppliers in Portland to find what you are looking for. We work with all of them and receive deliveries weekly.

2CM Stone is .75" thick and 3CM stone is 1.25" thick. Generally 2cm is glued together on the edges to look thicker. While 2cm material is less expensive, it requires more labor and sub decking. At Signature Surfaces NW we install almost all residential work in 3cm. After all, would you rather your counters be cut out of one or two pieces or 10 or 11 pieces that will then be glued together?

Granite is a natural stone, mined in blocks from the earth, cut and polished. Quartz is a man made product, produced in a factory using both natural components and petroleum based products. Pricing is comparable with both low and high end options. Granite often comes in larger pieces allowing for fewer seams and waste. Quartz scratches much easier. If you want to see for your self, pull the tip of a sharp knife or razor across a granite and quartz sample. Quartz is susceptible to heat damage above 275 degrees because of the petroleum products in it. Natural stone can withstand temperatures above 1000 degrees. Both products are recommended to be sealed – yes quartz too, especially light colors. Natural stone is more porous than Quartz and depending on the stone may be more likely to stain than Quartz if not properly sealed. There are no other products better than Natural stone and Quartz.

If you are keeping your existing cabinets, we can usually tear out and install your new counters in one day. If you are replacing your cabinets, it generally take us about 2-3 weeks from template to install.

Yes. We invite every customer to come be part of how we layout and cut your stone.

As few as possible. We usually are only limited by the size of the material. Typically if you have to have a seam there will be one through the sink and another behind the stove.

Yes. Oscar has been templating and installing with his same crew for almost a decade.

No. We do everything tile and stone in house. We are happy to refer you a plumber, electrician or other tradesman if you are in need of something we do not do.

Call us. We will take care of you the best we can, whenever you need us.

Yes. We offer a lifetime warranty on all our work. Please inquire for more details.