Testimonials
We always appreciate your feedback!!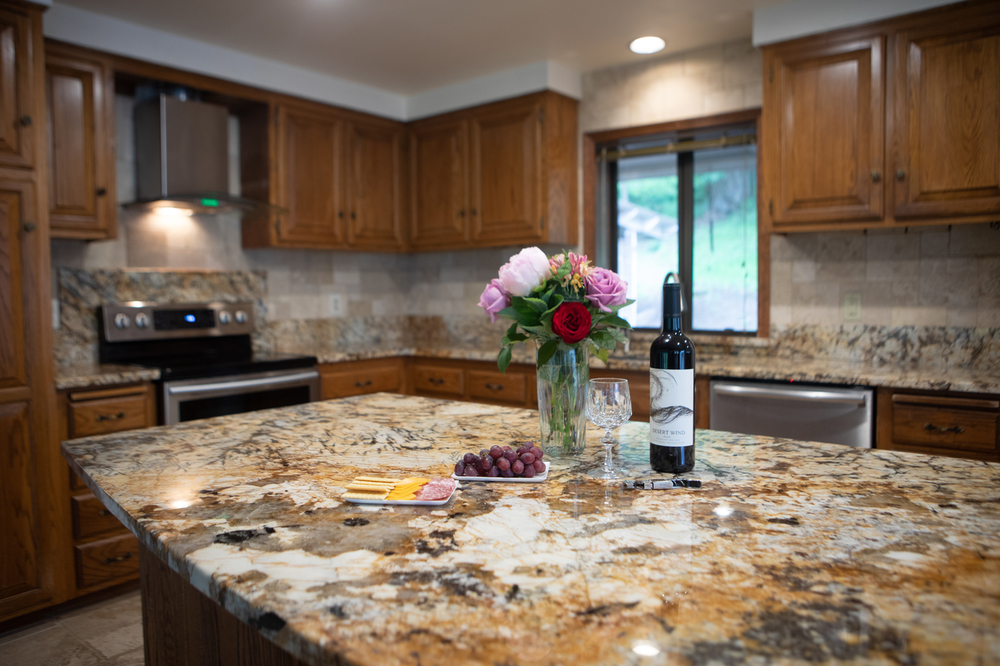 We have used Signature Surfaces NW for 2 kitchen remodels and a fireplace tile job. They are always punctual and professional. If there are ever any issues, they are promptly taken care of. I would highly recommend this company!
~Monika Neale
---
Thank you so much for doing such a wonderful job and giving us such a great price. We are so glad that we found you!
~Martha Edwards
---
Thank you for all of your hard work and professional installation of our granite. You are very pleasant people and we appreciate the beautiful granite counter tops!"
~Aaron & Julie Andre
---
You guys are the best! Of all the stone shops we went to in Eugene, you guys are the only one that would install our counters with only one seam! It was amazing how smoothly you and your crew were able to get those huge pieces in place without breaking them or scratching anything. You guys are an impressive outfit. I will highly recommend you to everyone.
~Monica Hargove
---
Shaun, you are so thoughtful and I am most grateful for your commitment to excellence. Working with you has been great. You are an amazing credit to your profession.
~Stacy
---
Thank you Shaun, Laurie and crew. It was a pleasure to work with you. You gave us so much joy with your happy people and the beautiful granite counters. Thank you.
~Al & Wilma Stinely
---
Dear Shaun, we are enjoying our beautiful new granite counter tops. We were very happy with the quality of work. Your workers had very good work ethic, cleaning after themselves, being on time, and being pleasant and polite. We have already given your company's name to two of our friends.
~Jack & Sue Hafner
---
Laurie, Oscar and the entire crew were very easy to work with. Their finished work is top notch. We had a full kitchen and two bathrooms down by them and could not be more pleased. Laurie is particularly patient and helpful in choosing the stone. On top of that, their pricing is extremely fair.
Judy Shlasko & Mehmet Bengisu
---
These guys made a very professional job look easy to do..... They work as a great team every step of the way.
Tomorrow the plumber comes to set up the sink. Also a range hood will be installed. I thought I could imagine how beautiful our modest kitchen would look with granite, with this particular choice of granite, but I didn't realize the outcome would leave me speechless. It is truly a jaw dropping experience. I can't stop staring at the granite from every angle. It feels as though we have a grand guest living with us now. My appreciation for the riches hidden in the earth is magnified immensely.
I want to thank you for your crucial help throughout the timing it took for us to complete our decisions. Your expertise, patience, and warmth have been invaluable in the whole process. Thanks so much.
Many thanks to everyone there,
Linda and Patrick Marooney
---
Would like to commend two members of your team, Oscar and Daniel, for a job well done. The quality of their work, thoroughness, and competence was demonstrated throughout the work they completed. Thank you, Oscar and Daniel for a job well done!
---
We are so thrilled with signature surfaces! We had white maucabus quartzite countertops installed in our kitchen and signature made everything so easy. Working with Laurie was like working with an old friend- she was so insightful and helpful. I really trusted her judgment and suggestions. I love that they let you layout your own template too! The installation crew was Very polite and respectful and did a beautiful job with attention to detail. They also took care to clean up after themselves which I really appreciated. I would highly recommend signature surfaces!
---